THE DAILY BLADE: State Of The Union Drinking Game
The Stiletto suggests a simpler, faster way to play the SOTU Drinking Game: Every time the camera focuses on Joe Wilson (R-SC) for a reaction shot, take a shot of your preferred spirits. Obama reportedly plans to admit his mistakes ("I am a workaholic and I will not rest") - but without apologizing for his unpopular agenda or accepting blame for the ballooning national debt, the increased number of terrorist attacks against the U.S. by homegrown and foreign terrorists, long-term unemployment rate, etc., etc., etc. Even if Wilson duct tapes his mouth shut, his gag reflex will be triggered - repeatedly.


Update: The Stiletto's gag reflex was triggered when Obama said, "I never thought the mere fact of my election would usher in peace and harmony." That's exactly what he thought, and he must be mystified about why North Korea and Iran haven't shut down their nuclear facilities, why Israel hasn't torn down the West Bank settlements and why the Olympics were not awarded to Chicago.


FL Manatees Freeze To Death
More than 100 manatees in FL have succumbed to a cold snap that lasted nearly two weeks, reports The Associated Press. The FL Fish and Wildlife Conservation Commission says that the number of manatees dying from cold stress has set a record for a single year. The previous record - 56 deaths – was set last year.
The Fearless Leader Of The Manatees (below, left) issued a statement regretting that he did not evacuate his loyal subjects to warmer climes in response to the lethal climate change, and blamed Al Gore's global warming malarkey for clouding his judgment.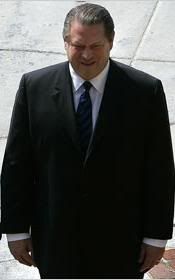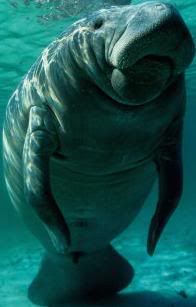 The Stiletto Scoops "Speech Critics"
President Barack Hussein Obama's speeches are a lot like a Chinese dinner. Heaping helpings of impressive-sounding but empty phrases ("we will go forward with the confidence that right makes might and with the commitment to forge … a future that represents not the deepest of fears but the highest of hopes"). An hour later, you're wondering what, exactly, he said he would commit to.
- "Obama's Afghanistan Speech: One From Column A, One From Column B," The Stiletto Blog, December 2, 2009
Ted Widmer, who edited an anthology of political speeches for the Library of America, praised President Obama for his "masterful" style, but could not cite a specific line the president said. Similar observations were made by Jeff Shesol, David Frum and Harry C. McPherson, who wrote speeches for presidents Bill Clinton, George W. Bush and Lyndon Johnson, respectively. "The speech he made in Cairo - I remember the intelligence, the breadth and the reasonableness," McPherson says. "But I can't tell you - and this is one of the shortcomings of the kind of speech he makes — I can't quote anything, or cite anything, off the top of my head."
- Speech Critics Assess Obama's Oratory, The Associated Press, January 24, 2010
In Memoriam
Pernell Roberts, May 18, 1928 – January 24, 2010
Trackbacks