A current events round-up for conservatives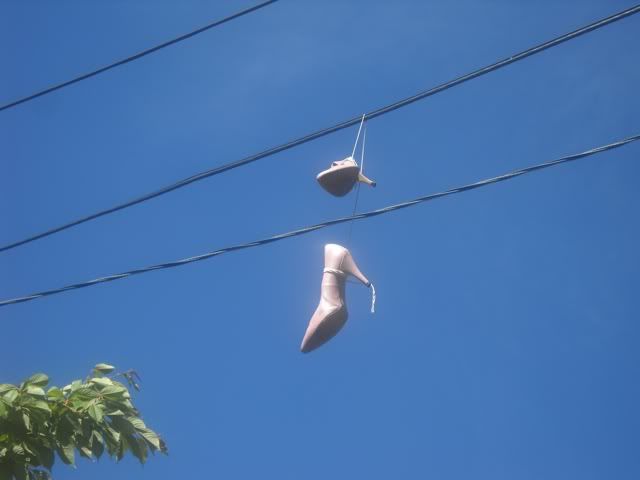 THE OTHER SHOE DROPS: Turning back the tide of information overload with a digest of the latest developments in news conservatives need to pay attention to:

† Dispatch From Bizzaroland: Between September 11 and September 14, 2012: The U.S. Ambassador to Libya and three other embassy personnel are murdered in a planned terrorist attack several hours before President Barack Hussein Obama skips an intelligence briefing to fly to a fundraiser in Las Vegas; Muslim mobs attack U.S. embassies in 21 Muslim countries, England and Australia as Obama parties with Beyoncé and Jay-Z; Al Qaeda in Yemen exhorts Muslims to kill U.S. diplomats in Muslim countries; Sudan refuses a U.S. request to post additional Marines to protect our embassy in that country; it comes out that our embassy in Egypt knew about the attack 48 hours in advance but Hillary Clinton took no steps to bolster its defenses – for instance, reversing her standing order not to allow the security detail in Egypt to have bullets loaded in their guns; Obama is unable to say whether Egypt is an ally or an enemy; and the US government's credit rating is downgraded from "AA" to "AA-".

But who had "the worst week in Washington," according to The Washington Post's Chris Cillizza? Not Obama, whose

naive Mideast outreach strategy has spectacularly gone down in flames. Not Hillary Clinton, who demonstrated gross negligence by failing to ensure that embassies in Libya and elsewhere beefed up security in the event of a terror attack on the 11th anniversary of the September 11 terror attacks in the U.S.

No, Republican nominee Mitt Romney's week in Washington was "the worst," because the timing of his statement condemning the apologetic posture taken by the U.S. embassy in Egypt in a futile effort to appease the mob and head off the planned attack made him "[look] like he was trying to score political points rather than mourn those who died."

A debatable point, but Romney is not in the Oval Office

charting the course of this nation's foreign policy and he is not running the State Department thus the failures that led to the murders of four Americans are not his. In short, Romney doesn't have their blood on his hands as Obama and Clinton do because of their incompetence. It should go without saying, but dead Americans trump bad optics.

† Has Obama been humbled?: Nearing the end of his only term in office™ the narcissistic President Barack Hussein Obama shows no sign whatsoever of being aware his presidency is an epic failure of Carterian proportion. His stratospheric opinion of himself remains intact, even as a catastrophic cascading failure of his well-meaning, but misguided and unrealistic, foreign policy philosophy to dialogue with instead of "dictating to" the Muslim world is playing out. This timeline demonstrates that Obama has not learned on the job and remains the foreign policy naïf he was when he ran for the presidency, and that his world view has not evolved the way it has regarding gay marriage.

November 21, 2007: In a radio interview, Obama makes the case that his life experience as a multi-culti dude counts as much or more than foreign policy expertise and makes him uniquely qualified to be president:

I truly believe that the day I'm inaugurated, not only does the country look at itself differently but the world looks at America differently. If I'm reaching out to the Muslim world they understand that I've lived in a Muslim country and I may be a Christian but I also understand their point of view. [Note: The Stiletto never says she "may" be a Christian but that she "is" Christian.] ... My sister is half Indonesian, I travelled there all the way through my college years and so I'm intimately concerned with what happens in these countries and the cultures and perspective these folks have. Those are powerful tools to be able to reach out to the world and when you combine that with my work on the Senate foreign relations committee ... I think the world will have confidence that I am listening to them and that our future and our security is tied up with our ability to work with other countries in the world. That will ultimately make us safer, and that is something that this administration has failed to understand.

February 15, 2012: In a speech at a fundraiser in Los Angeles, Obama said: "One of the proudest things of my three years in office is helping to restore a sense of respect for America around the world, a belief that we are not just defined by the size of our military."

September 6, 2012: As a group of terrorists affiliated with al-Qaeda is busy planning a deadly assault on the U.S. consulate in Benghazi, Obama tells Democratic National Convention delegates that his administration has "advanced the rights and dignity of all human beings, men and women; Christians and Muslims and Jews" around the world, adding: "[N]ow we face a choice. My opponent and his running mate are new to foreign policy, but from all that we've seen and heard, they want to take us back to an era of blustering and blundering that cost America so dearly."

September 14, 2012: After the terrorists successfully carried out their attack on our embassy in Libya and rioting Egyptians became the vanguard of a series of violent protests at U.S. embassies in 21 nations throughout the Muslim world that appear to be co-ordinated by al-Qaeda leader Ayman al-Zawahiri, when reporters at a White House press briefing asked White House Press Secretary Jay Carney whether "perceived American weakness" enabled these attacks, he responded: "We're very proud of the president's record on foreign policy and are happy to make the case at the appropriate time."

There is nothing to be proud about concerning the events of the previous week, in which Muslim terrorists murdered four Americans serving their country on sovereign U.S. soil; the American flag was torn down and replaced by the black battle standard of Mohammad at U.S. embassies in Egypt, Tunisia, Yemen, symbolizing the Muslim conquest of America; at embassy after embassy in the Middle East and North Africa the American flag was defiled and burned; and millions of dollars of damage were done to American diplomatic facilities .

And with so many questions surrounding the embassy attacks, this is the appropriate time to explain what happened and why to the American people. But Obama and Secretary of State Hillary Clinton are determined to stonewall until after the election after Attorney General Eric Holder completes his investigation. That timetable does not suit Sen. Joe Lieberman (I-CT) and Susan Collins (R-ME), respectively, the chairman and ranking members of the Senate homeland security committee, who are calling for an investigation.

† The First Amendment Is A Double-Edged Sword (click here for related article): In observance of Constitution Day, Washington Times columnist Robert Knight offers a list of extra-constitutional actions taken by President Barack Hussein Obama. Given the events of the past week, this list already needs updating, as the Obama administration repeatedly apologized for the expansiveness of America's First Amendment free speech rights; enlisted Gen. Martin Dempsey, chairman of the Joint Chiefs of Staff, to intimidate a U.S. citizen from exercising his free speech rights; pressured a private company to remove a 14-minute video, "Innocence of Muslims," that the administration deemed "reprehensive, offensive and disgusting"; and dispatched federal officers to question a CA man who exercised his free speech rights to make that video.

To its credit, Google refused to comply with the Obama administration's "request" because the video did not violate its terms of service regarding hate speech, as it was against Islam and not against Muslim people. On its own, the company had already blocked the video temporarily on Wednesday in Egypt and Libya.

Nakoula Basseley Nakoula, a Christian Copt from Egypt who insists the anti-Islam video is a political – not religious – statement, was taken to a Los Angeles sheriff's station in Cerritos and interviewed by federal probation officers. Nakoula, who was convicted of bank fraud charges, could be returned to prison if the probation department's investigation into his activities – particularly as regards to the making of this video – finds that he violated the conditions of his five-year probation. For instance, Nakoula, was not allowed to use computers or the Internet without approval from his probation officer, or to "use, for any purpose or in any manner, any name other than his/her true legal name or names without the prior written approval of the Probation Officer." The Associated Press notes that several aliases he had used in the past, such as Nicola Bacily and Erwin Salameh, "were similar to the Sam Bacile pseudonym used to set up the YouTube account for the anti-Islamic film." On JihadWatch, Robert Spencer writes that if Nakoula is sent back to jail "he will be a political prisoner," adding, "he will be nothing more than the fall guy who became the first offender against the new federal crime of blasphemy against Islam."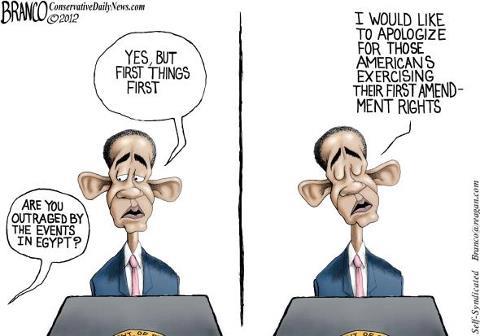 As it happens, Obama and Clinton not only stomped on the First Amendment as terrorists were stomping on our flag, but also treated Nakoula much differently than they had treated another filmmaker whose film trashing all religions also included "reprehensible and disgusting" criticism of Islam and Muslims, not unlike that of "Innocence of Muslims" (click here for a list of the dialogue that was dubbed in during post-production):
Islam is, according to me, a violent religion. The Koran is a violent book and Mohammed was a violent prophet. …
The name Islam means peace. And yet it is involved in a lot of war and violence. …
Muslims were imperialists in the century after Mohammed's death. They conquered most of the known world in one century. [They were trying to spread Islam] but they weren't doing it by singing ''Kumbaya.'' …
It goes both ways, freedom of speech. It goes both ways, but the people who … usually do the killing for it wind up on the Muslim side.
No one held press conferences to denounce his film; pressured Google to pull the trailer for the film from You Tube, or Amazon and other retailers to pull DVDs of the film from their inventories; or brought the filmmaker in for questioning. Could it be because this filmmaker is a well-known liberal atheist who donated $1 million to a pro-Obama superPAC? Breitbart Website Big Hollywood thinks so:
Bill Maher made a comedy/documentary called "Religulous" that's most famous for mercilessly mocking Christianity. But what people forget is that the last twenty-minutes or so of the film make a damning case against Islam. …
I'm sure that upon being reminded of this, Secretary of State Hillary Clinton will tremble with self-righteous indignation and demand Maher take his money back.
After all, if movies create the terrorists who in turn create the terrorism, what about Bill Maher?
And what if the terrorists learn that the president of the United States is benefitting from a million dollar contribution given by a filmmaker who mocked Islam? How will Hillary Clinton claim with any credibility that the United States government has no connection to this outrage? …
Well, I guess some anti-Islamic filmmakers are more equal than others.
And thank heavens, we have Barack Obama to tell us who the more equal ones are.
The unequal treatment of Nakoula and Maher is an affront to the First and Fourteenth Amendments.
In a blog post for National Review Online, Mark Krikorian asks, "Where is the ACLU?":
You want to know why normal people feel nothing but loathing and contempt for the ACLU? Just look at their complete silence on this Mohammed-video business. Not a peep on their website, which is all war-on-women, get-out-the-vote Democratic-party talking points. This despite the fact that the FBI is being sent to hunt down the producers of material that is unquestionably protected by the First Amendment. …
The ACLU's defense of the free-speech rights of Nazis to wave their obscenities in the face of Holocaust survivors in Skokie was consistent with the group's advertised image, as upsetting as it was to many people. For that same organization to slink away from an issue where the ACLU should be the leading defender of Americans' right to produce material deemed by others to be objectionable is beneath contempt. It's immaterial whether this decision stems from simple physical cowardice or whether, like other leftists, the ACLU in some sense shares the Islamists' loathing of the West. Either way, the ACLU should be ashamed of itself, assuming that's possible.
Trackbacks