The Department Of Redundancy Department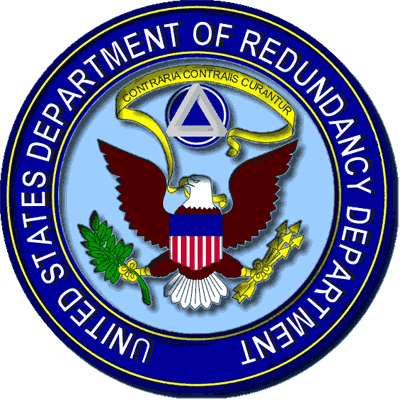 NOT THE SHARPEST KNIFE IN THE DRAWER: Having been mocked mercilessly over his warmed-over jobs plan, President Barack Hussein Obama has decided to garnish the re-hash with a new cabinet postion, the Secretary of Business. He described the position on MSNBC's "Morning Joe" as "a one-stop shop" that would replace "nine different departments that are dealing with things like getting loans to SBA [the Small Business Administration] or helping companies with exports."
Based on Obama's "green economy" track record, columnist David Harsanyi calls the proposed cabinet department "a homeland security for cronyism":
The Department of Business promises to do to business what the Department of Education has done for education. It's the sort of idea that sounds like it adds efficiency but actually offers the opposite. The larger context of the idea comports well with the president's belief that a healthy private sector is healthiest when relying on the dedicated technocrats. …
And if winning elections means funding busy work at a union-run money pit or keeping a pleasing sunflower-logoed company afloat via a stimulus package, imagine what an entire agency giving out favors could accomplish?
As The Wall Street Journal points out, "the government already has an agency with a 'focus on expanding the American economy and job creation' and that 'invests in America's long-term growth and competitiveness' … the Department of Commerce, with its very own Secretary." Though this description of the Department of Commerce's mission are included in the 2013 budget proposed by the White House, Obama seems as unaware of its existence as he is that the bayonet remains standard issue equipment for the U.S. Marine Corps and is used during close combat warfare.
Trackbacks