A current events round-up for conservatives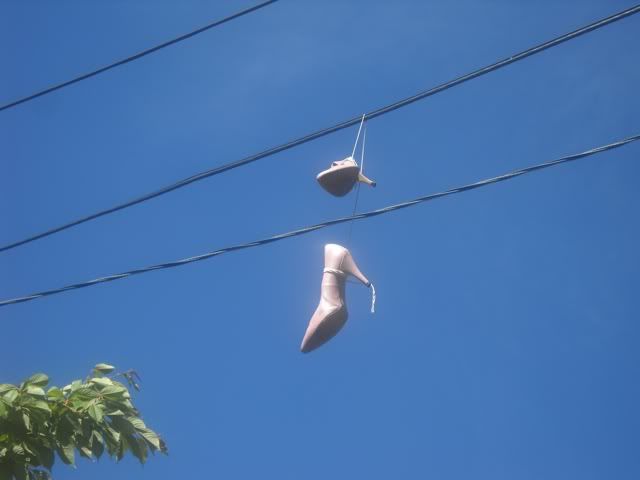 THE OTHER SHOE DROPS: A digest of the latest developments in news conservatives need to pay attention to:
† Those who can't teach, cheat: In what The Associated Press calls "a brazen and surprisingly long-lived scheme," from 1995 to 2010 teachers in AR, MS and TN paid Clarence Mumford Sr. between $1,500 and $3,000 to recruit ringers to take the Praxis teacher certification exam:
Mumford faces more than 60 fraud and conspiracy charges that claim he created fake driver's licenses with the information of a teacher or an aspiring teacher and attached the photograph of a test-taker. Prospective teachers are accused of giving Mumford their Social Security numbers for him to make the fake identities.
The hired-test takers went to testing centers, showed the proctor the fake license, and passed the certification exam, prosecutors say. Then, the aspiring teacher used the test score to secure a job with a public school district, the indictment alleges. Fourteen people have been charged with mail and Social Security fraud, and four people have pleaded guilty to charges associated with the scheme. …
Among those charged is former University of Tennessee and NFL wide receiver Cedrick Wilson, who is accused of employing a test-taker for a Praxis physical education exam. He was charged in late October with four counts of Social Security and mail fraud. He has pleaded not guilty and is out of jail on a $10,000 bond. He has been suspended by the Memphis City Schools system.
If convicted, Mumford could face between two and 20 years in prison on each count. The teachers face between two and 20 years in prison on each count if convicted.
A 23-year-old history teacher in Memphis who passed several Praxis exams, including history and geography, fair and square tells AP that they are "relatively easy for someone who has a high school education" and test-takers are allowed a do-over if they don't pass the first time around. She adds: "If you feel like you can't pass and you hire someone it means you really didn't know what you were doing."
† What freedom of religion means to Muslims (related article, last item on the page): After a string of deadly church bombings in the Nigerian state Kaduna – which divides the country's mostly Muslim north and the largely Christian south – another such attack on Christians there killed 11 and injured 30, The Associated Press reports:
A bus laden with explosives first rammed into St. Andrew Military Protestant Church in the military barracks in Jaji in Kaduna state at about noon, said Brig. Gen. Bola Koleoso, the director of army public relations. Then a Toyota Camry car parked just outside the church exploded 10 minutes later as people fled the first blast, he said.
Jaji is a symbolic target as it is home to the Armed Forces Command and Staff College, one of the country's most important military colleges, which trains Nigerian and foreign navy, air force and army officers.
There was no immediate claim of responsibility for Sunday's attack, but a radical Islamist sect known as Boko Haram previously has targeted Nigerian military institutions. …
Churches increasingly have been targeted by violence in Nigeria. In Kaduna state, there were church attacks on three weekends in a row in June.
† If Our Troops Had Done This … It Would've Been "Torture": The Daily Mail (London) reports, that Shiite Muslims are mourning "the slaying and martyrdom of Imam Hussein, the grandson of Prophet Mohammad" and that "[i]n some Shi'a regions of Muslim countries such as Afghanistan, Iran, Iraq, Turkey, Azerbaijan, Pakistan, Lebanon, and Bahrain, the commemoration has become a national holiday." The rather gruesome pix accompanying the article depict "[b]lood … on the floor of a mosque as Indian Shiite Muslims flagellate themselves."
† The sounds of silence?: PJ Media's Andrew Klavan explains that when liberals can't refute a conservative argument they end the conversation using various synonyms for "shut up," including "McCarthyite," "fascist" and "racist." Perhaps liberals learn to practice – and/or accept – totalitarian restrictions on free speech at college, which The Wall Street Journal's Sohrab Ahmari writes is "the most authoritarian institution in America":


"A bizarre, parallel dimension," as Greg Lukianoff, president of the Foundation for Individual Rights in Education, calls [the modern university].

Mr. Lukianoff, a 38-year-old Stanford Law grad, has spent the past decade fighting free-speech battles on college campuses. …
"The people who believe that colleges and universities are places where we want less freedom of speech have won," Mr. Lukianoff says. "If anything, there should be even greater freedom of speech on college campuses. But now things have been turned around to give campus communities the expectation that if someone's feelings are hurt by something that is said, the university will protect that person. As soon as you allow something as vague as Big Brother protecting your feelings, anything and everything can be punished." ...
In his new book, "Unlearning Liberty," Mr. Lukianoff notes that baby-boom Americans who remember the student protests of the 1960s tend to assume that U.S. colleges are still some of the freest places on earth. But that idealized university no longer exists. It was wiped out in the 1990s by administrators, diversity hustlers and liability-management professionals, who were often abetted by professors committed to political agendas.
"What's disappointing and rightfully scorned," Mr. Lukianoff says, "is that in some cases the very professors who were benefiting from the free-speech movement turned around to advocate speech codes and speech zones in the 1980s and '90s."
† Is Armenian genocide denial good for the Jews?: In a long line of insults that should compel Israel's leaders to re-think their country's official policy of Armenian Genocide denial and how it has been working out for them: Back in June Turkish Prime Minister Recep Tayyip Erdoğan waved off Israel's tourism boycott ("We don't need Israeli tourists. Thirty-one million tourists came to Turkey last year. won't affect us.") and the following month he took Hamas leader Khalid Mishaal as his personal guest to an iftar dinner, but spurned Israeli diplomats. Most recently, during the conflict between Israel and Hamas Erdoğan "told the Eurasian Islamic Council conference in Istanbul that the Jewish state is systematically mass-killing Muslims," The Associated Press reports:
"Those who associate Islam with terrorism close their eyes in the face of mass killing of Muslims, turn their heads from the massacre of children in Gaza," Erdogan said, according to Reuters. "For this reason, I say that Israel is a terrorist state, and its acts are terrorist acts."
According to Human Events, "Erdoğan brought his nation firmly down on the side of barbarism" when he uttered those words:
That's how barbarians turn the standards of civilized people against them. Hamas terrorists launch massive attacks deliberately targeting civilians; their targets respond with professional military strikes against war-criminal targets who deliberately hide among civilian populations; the barbarians' allies and public-relations teams throw the word "terrorist" at the civilized people. It's the tactic radical guru Saul Alinsky summarized as "Make the enemy live up to their own book of rules." …
It's a bad sign when Turkey, formerly presented as the model of sophisticated, secular Muslim governance, is willing to weigh in against Israel. Reuters observes that the Turks are still sore about Israel's naval blockade of the Gaza Strip, and the 2010 intercept of a flotilla bringing aid to the terrorists in defiance of the blockade. Turkey is actually holding a trial in absentia for the Israeli commanders of that raid. But if Israel didn't maintain that blockade, which it has the right to enforce as a sovereign nation, the Hamas murderers would be even better-armed then they already are.
"Whereas once Turkey could be counted on as a democratic bulwark against terrorism, now the country's leaders orient themselves not only in the Islamist camp, but increasingly in the extremist one as well," notes Commentary magazine, which has questioned why "Obama is diverting helicopters and equipment so sorely needed to protect American troops in Afghanistan to Turkey for Turkey's supposed fight against terrorism, when [Erdoğan] is so blatant in his support for terrorism – so long as the terrorists kill Americans and Jews rather than Turks." Commentary also wants to know why "[i]n the 112th Congress, more than 150 congressmen have signed up for the Caucus on US Turkish Relations & Turkish Americans (AKA, the Turkey Caucus)" since "the Turkish government has become part of the problem rather than the solution" in the war against terrorism:
[R]epresentatives like Gerry Connolly (D-Virginia), Steven Cohen (D-Tennessee), Virginia Foxx (R-North Carolina), and Ed Whitfield (R-Kentucky), just to single out the co-chairs, should explain why it is that they are working in Congress to back up a government and, frankly, a political party that has been offering aid and comfort so overtly to a terrorist group that has promised genocide against Jews and has also targeted Americans. Perhaps it is time for each and every member of the Congressional Turkey Coalition to ask whether their endorsement of Turkish policies now does more harm than good.
Americans need to know the answers to these questions, especially as Erdoğan has transformed himself into the "Turkish equivalent of Russian leader Vladimir Putin" and his country "from an aspiring democracy to a country which ranks below even Russia in terms of basic freedoms [and] from a country fighting terrorism to, in effect, a country cheerleading terrorists."
Trackbacks