A current events round-up for conservatives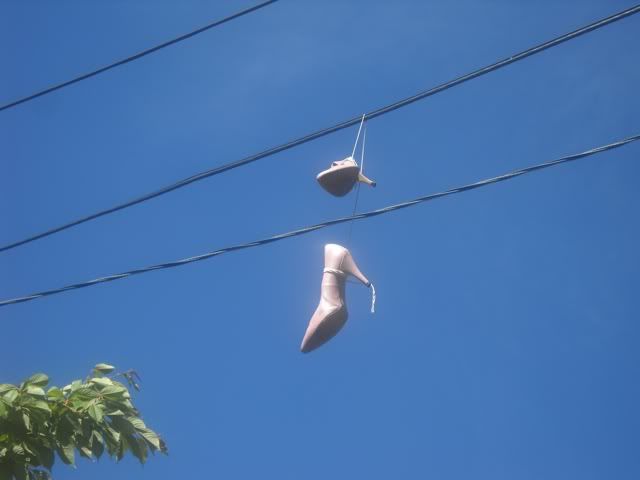 THE OTHER SHOE DROPS: Turning back the tide of information overload with a digest of the latest developments in news conservatives need to pay attention to:
† Prediction: Christians will be "extinct" in the Holy Land within 60 years (related article, third item on the page): A new Pew report, "The Global Religious Landscape," finds that nearly a third of people worldwide (31.5 percent) are followers of Christ, and roughly one-quarter (23.2 percent) are Mohammadans. As The Washington Post points out, "That difference of 8.3 percent might not sound like much, but keep in mind that 8.3 percent of the global population amounts to hundreds of millions of people":
The entire Western hemisphere is majority Christian, as is virtually all of Europe, much of sub-Saharan Africa, even small parts of Asia.
Christianity is the only religion in the world with a major presence on every continent. …
Two of the 10 countries with the world's largest Christian populations are not actually Christian-majority: Nigeria, which is about half Muslim [78 million Christians, comprising 49 percent of the population], and China. Those 68 million Chinese Christians only make up about five percent of their country's population, but it's a remarkable toehold for the world's largest religion in the world's largest country. And the number of Chinese Christians appears to be growing rapidly, particularly as the government loosens long-held restrictions on free religious expression.
This data is likely to provide little comfort to the handful of Christian communities, particularly in countries such as Iraq, that are facing real persecution. But, overall, the story of Christianity in today's world is still one of vast majorities, enormous populations, and historically unique reach.
That "handful of communities" was quite a handful, indeed – more than two thirds of the nations (131 out of 193) in the world, according to a 2011 Pew study cited in this Wall Street Journal op-ed by Rabbis Abraham Cooper and Yitzchok Adlerstein of the Simon Wiesenthal Center and Rev. John Huffman, pastor emeritus of St. Andrew's Presbyterian Church in Newport Beach, CA:
In October, armed attackers, presumed to be members of Boko Haram, an Islamist terrorist group with links to al Qaeda, invaded the Tudun Wada Wuro Patuje area, entering the off-campus housing of the Federal Polytechnic State University.
The attackers called students out of their rooms and asked for their names. Those with Christian names were shot dead or killed with knives. Students with traditionally Muslim names were told to quote Islamic scripture. The selektion completed, at least 26 bodies were left in lines outside the buildings. …
To classify these outrages as nothing more than tribal and territorial ones with a veneer of religion is a moral outrage. We are dismayed that Johnnie Carson, the U.S. assistant secretary of state for African affairs, sanitized the intentions of this murderous group while giving a "Live at State" online interview in September. "The bulk of the Boko Haram movement is … trying to do everything in its power to show that the government is ineffective in the defense of its people and in the protection of government institutions," Mr. Carson said. Two months before he spoke, Boko Haram had claimed responsibility for the murder of dozens of Christians in the city of Jos – just one of many such attacks. …
[R]eligious leaders, human-rights organizations and the United Nations must lobby all governments to establish laws that guarantee protection from violence to religious minorities within their own borders. That is a Herculean task, which must be led by the United States.
Cooper, Adlerstein and Huffman urge President Barack Hussein Obama to "use the next four years to protect not religions, but the religious, wherever they may be."
Christians throughout the world suffer for their love of Christ – worshiping in secret or forced to flee their villages when Muslim insurgents and fundamentalists take advantage of political instability to exterminate Christians – but Americans are increasingly turning their backs on His teachings and admonishments, embracing either a vague, content-free "spiritualism" or agnostic secularism. Which proves the old saying that the opposite of love is indifference.
† Living in these mad, mad, Madoff times: For the 27th year, the Latin American Chamber of Commerce held its holiday food basket giveaway in Miami's Little Havana neighborhood. Three thousand people holding vouchers that had been handed out several weeks ago received a basket with $150 dollars' worth of items needed to prepare a traditional Noche Buena dinner, such as pork and yucca, CBSMiami.com reports:
Some people were in line for hours or even days, but no matter how long they waited, as long as they had a voucher, they received bags of holiday cheer. …
Zoraida Pacheco said she and her husband were laid off this year and are scraping by doing odd jobs. For the first time ever, she came to wait in line for a holiday meal for her five kids.
"Once you've been up there and you have everything for yourself, then comes a point that you're down here," Pacheco said, "that you have to depend on other people, so other people can help you. This helps a great deal."
The state's current Republican governor, Rick Scott, and his Republican predecessor, Jeb Bush, helped distribute the food baskets.
† Me, myself and I-I-I: In his 1,600 word eulogy for Sen. Daniel Inouye (D-HI) at the National Cathedral in Washington, D.C., President Barack Hussein Obama not only referred to himself 63 times ("I" 30 times; "my" 21 times; "me" 12 times), but he framed the legislator's life and career in terms of his own – not the first time he's horned in on someone's act. The Weekly Standard reports that Obama told the audience Inouye had gotten him interested in politics when he was on TV during the Watergate hearings, which just happened to coincide with a summer vacation his family took when he was 11 years old that he described in great detail (Disneyland, Greyhound buses, Howard Johnson motels, swimming pools, ice and vending machines):
[T]he person who fascinated me most was this man of Japanese descent with one arm, speaking in this courtly baritone, full of dignity and grace. …
Now, here I was, a young boy with a white mom, a black father, raised in Indonesia and Hawaii. And I was beginning to sense how fitting into the world might not be as simple as it might seem. And so to see this man, this senator, this powerful, accomplished person who wasn't out of central casting when it came to what you'd think a senator might look like at the time, and the way he commanded the respect of an entire nation I think it hinted to me what might be possible in my own life.
Obama also mentioned the heroic life of Inouye. "And so we remember a man who inspired all of us with his courage, and moved us with his compassion, that inspired us with his integrity, and who taught so many of us – including a young kid growing up in Hawaii – that America has a place for everyone," Obama concluded.
Trackbacks