A current events round-up for conservatives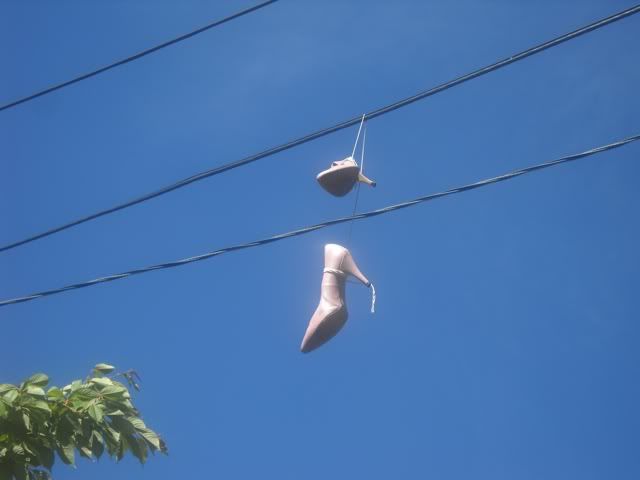 THE OTHER SHOE DROPS:
Turning back the tide of information overload with a digest of the latest developments in news conservatives need to pay attention to:
† The right to bear arms belongs to us all (click here for related article): Gun licensing regulations in NYC are famously tough. Just how tough are they? Here's what one citizen who successfully got a gun permit had to go through:

They ... took my tax returns, bank statements, character references, pictures of my place of work, mental health records, personal interview, FBI background check, finger prints, and all this takes almost a year.
Even if you have a seal of approval from the NYPD and FBI as being more honest, trustworthy, responsible and saner than other NYers – you still cannot get a concealed-carry permit unless you can show "proper cause," which means "a special need for self-protection distinguishable from that of the general community or of persons engaged in the same profession." Merely having a Constitutional right at birth to bear arms isn't considered "proper cause" in NY – a state that does not honor permits or licenses granted by other states, by the way. In November, a three-judge panel of the Second Circuit Court of Appeals affirmed a lower court decision that New York Penal Law §400.00(2)(f) does not violate the Second Amendment, handing Alan Gura of Heller fame a rare defeat, The Wall Street Journal reports:

"Plaintiffs counter that the need for self-defense may arise at any moment without prior warning. True enough," the judges wrote. "But New York determined that limiting handgun possession to persons who have an articulable basis for believing they will need the weapon for self-defense is in the best interest of public safety and outweighs the need to have a handgun for an unexpected confrontation."
Alan Gura, an attorney for the plaintiffs, said: "We're evaluating our options. I'm confident at some point the Supreme Court will weigh in on the issue."
Given how restricted gun rights already are in NY, what can Gov. Andrew Cuomo (D), NYC Council Speaker Christine Quinn (D) and other pols do to make them even "tougher" without compelling the Supreme Court to take up its onerous gun control regulations? Quinn, who is likely to throw her hat in the ring to replace Mayor Michael Bloomberg, is being coy for now and is saying only that she wants to do "everything I can to limit the number of guns" in private possession.
Cuomo, on the other hand, has been both forthcoming and back-pedalling. The governor plans to propose "tightening our assault weapons ban and eliminate large capacity magazines regardless of date of manufacture"; requiring background checks of gun buyers by licensed dealers and private sellers alike; and enhanced penalties for illegal gun purchases, using guns on school property, and using guns in connection with drug-related gang activity.
Tellingly, Cuomo's 2013 agenda does not include making it easier to legally commit and forcibly medicate mentally ill people who are a danger to themselves and others under the public health and safety initiatives – only to enable law enforcement to confiscate their registered weapons. Also, critics argue that it is unclear how an assault weapons ban will improve public safety – according to the State Division of Criminal Justice Services, only five of the 769 homicides in that occurred the state in 2011 were committed with rifles of any kind and there is a dearth of data showing which gun control measures, if any, are effective.
† Media irrelevancy – a self-inflicted wound (click here for related article): The Washington Post's Chris Cillizza defends the sorry job that political journalists and analysts did to keep voters ignorant informed about the issues in the 2012 election:

Political reporters – and the way in which we cover the people who populate the political landscape – are easy targets for criticism. Yes, we all make mistakes in how much time we dedicate to certain types of stories and, in the process, miss other scoops that would provide real value to our readers.
But as someone who has spent my entire professional career working in newsrooms – and the bulk of that time working at the Post – I can tell you that the main goal of the political journalism we do is to bring the fullest picture of who the men and women who run this country are to the people who elect them.
And, yes, that means covering the politics of policy and the personalities of the politicians at the highest levels of power. Which is exactly as it should be.
This is the same fellow who insisted that a rumored shake-up in Mitt Romney's campaign staff and Romney immediately - and correctly - recognizing the Benghazi attack as terrorism were more important for the MSM to obsess over than events that had far-reaching domestic and foreign policy implications, including Libyan officials contradicting the Obama administration's version of events; the DOJ communications staff routinely colluding with a left-wing, pro-Obama media advocacy group; Obama being unable to say whether Egypt is an ally or an enemy; and the US government's credit rating downgraded from "AA" to "AA-".
If Cillizza and his MSM colleagues were not guilty of gross malpractice, then why were there were so many "low information" voters in 2012?
† Journal News gun permit map shot down by citizens, law enforcement and elected officials: Gossip mongering site Gawker must have been jealous of all the attention that the sleepy, low circulation suburban paper The Journal News (White Plains, NY) has been getting for its interactive online map showing the locations of homes where gun owners reside, because it published the NYPD's 446-page list of the names of every licensed gun owner in NYC. Gawker, which got the list in 2010 through a Freedom of Information Law request, also pointed readers to a Website from which one can download a publicly-available database with the names and addresses of 300,000 of the 1.2 million New Yorkers licensed to own handguns (aka "a$$holes, according to Gawker senior writer John Cook). One reader, K-leigh, objected to the media taking it upon themselves to out gun owners like her:

The journal posted my address and name for my gun ownership. My past stalker saw this. I haven't heard from him in two years, because I disappeared. Now he is back and calling me......thanks to people like you bunch of a$$holes, looks like I will have to protect myself from becoming a murder victim. Gracias.
If you read through the comment thread, many disbelieved K-leigh's claim of being a stalking victim, and one hoped that her stalker "gets you in you the shower. That way the super has less to clean." She answered them (not that they were mollified – even when a private investigator explained how she could have been tracked down by her stalker):

Well, once a name and address is available, anyone can work their way backwards to find a phone number! You idiotic commenters out there have obviously never been a victim ... I am moving to a new location, elsewhere in the City, and will not be registering the new shot gun I was given as a christmas present. Thanks for all the empathy out there for a single woman trying to live her life without being some victim. Gawker and other neo progressive media, who are pushing a biased political agenda are doing law abiding citizens no favors.
A couple of readers sympathetic to K-leigh gave Cook a dose of his own medicine (If you'd like to get hold of John, feel free to give him a call at 718-369-8243, his address is 528 16th st. Apt #2 Brooklyn N.Y. 11215-5912. Oh, and hes most likely NOT on the gun owners list) – one instructed, "If you call, say hi to his wife Allison Benedikt [managing editor of Slate's Double X]." And FOX News' Eric Bolling divulged Gawker founder Nick Denton's phone number and email address (nick@gawker.com ; 646-470-4295) so that people who are "really ticked off" can contact him to let him know.

And just like The Journal News went running to people with guns when they felt threatened, Gawker immediately called the cops when staffers claimed to have received death threats – this, after slamming the NYPD for being "more interested in raping and/or eating ladies and spying on Muslims than it is in honoring public records law," because it refused to include the addresses of the permit-holders.
Update: John Cook has been promoted to editor-in-chief of Gawker.
† Al-Gorezeera cashes out all his carbon credits: The Washington Post's Melinda Henneberger notes that "the sale of [Al Gore's] Current TV network to Qatar-funded Al-Jazeera is not just hypocritical, but awfully familiar" – strikingly similar, in fact, to his father lining his pockets by throwing in with Occidental Petroleum after losing his bid for a fourth term to represent TN in the Senate):

[Albert Gore Sr.] went to work for the oil baron Armand Hammer, whose Occidental Petroleum broke into the big leagues after it started doing business in Libya in 1965 – on visas then-Sen. Gore had helped his old pal obtain. …
[I]n 1972, Gore Sr. went to work as chairman of Occidental's coal subsidiary, Island Creek, which on his watch committed a slew of environmental violations, some involving strip mining – a practice young congressman Al campaigned against.
To his credit, Gore Sr. was at least honest about cashing in: "Since I had been turned out to pasture,'' he told The Washington Post in 1980, "I decided to go graze the tall grass."
If all of this was inconvenient for his son the environmental crusader, as documented in a Gore biography by my husband, Post reporter Bill Turque, well, it wasn't as if Al Jr. bore personal responsibility for his father's decisions.
Until he repeated them, that is.
Trackbacks