A current events round-up for conservatives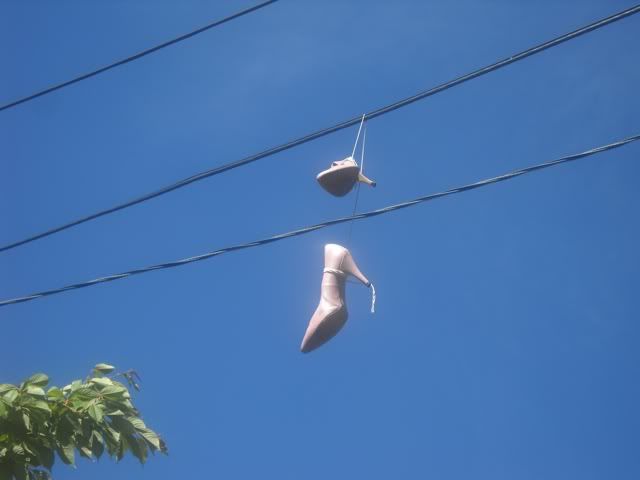 THE OTHER SHOE DROPS:
Turning back the tide of information overload with a digest of the latest developments in news conservatives need to pay attention to:
† Separated at birth?: Rep. Justin Amash (R-MI), a second generation Palestinian-American, was among those in the Twittersphere who took exception to a funny tweet by Sen. John McCain that poked fun at Iranian President Mahmoud Ahmadinejad volunteering to be his country's first man in space by likening him to Pishgam ("Pioneer," in Farsi), a monkey Iranian rocket scientists purportedly sent into the thermosphere 72 miles above the Earth's surface and brought back safely last week: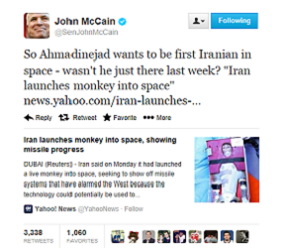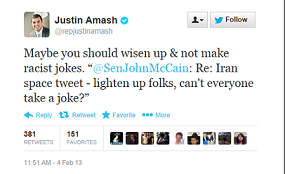 As Commentary magazine explains, "The conceit of Amash's attempt to take McCain to the woodshed is the idea that Westerners see all third world peoples as animals who are less than human and unworthy of respect," protesting that McCain "wasn't trying to imply that Iranians or Muslims are monkeys. He was poking fun at a man whose fantastical utterances and unabashed hate has become the butt of jokes for Westerners for years."
Commentary's article goes on at length about why McCain's joke isn't racist, but never quite spells out the connection between Ahmadinejad and a monkey. And neither does The Wall Street Journal:
Foreign stereotypes about Iranian people generally involve the carpet industry, not any animal.
It's not clear how Mr. McCain committed racism exactly. Sub-humanizing zoomorphism, sure, but it works in a one-liner about a tyrant. Foreign stereotypes about Iranian people generally involve the carpet industry, not any animal. …
If Mr. McCain had intended an ethno-specific animal insult, you'd think the old coot would have picked a beast more common to Iran. For Ahmadinejad, the donkey works –the other word for "donkey."
This sort of over-analysis is what brainy columnists and pundits get paid for, The Stiletto supposes, but sheesh! – don't they have eyes? Quite simply, the average Iranian man is much better looking than Ahmadinejad, who does in point of fact, look startlingly simian. If you Google "ahmadinejad looks like a monkey" you will find lots of examples of people depicting him – not Iranians or Muslims in general – as a monkey years before McCain's tweet.
And guess what? Iranians themselves think so, too: In March 2009, a popular children's show broadcast live on the state-run channel IRIB was abruptly yanked off the air after a child who had won a toy monkey was asked what he named him and guilelessly replied, "Well, my father calls him Ahmadinejad."
Commentary believes that Amash's "faux outrage" is meant "further the popular idea that American Muslims and Arabs are suffering under the burden of prejudice [which] tells us more about his priorities than it does about those of McCain." Those priorities appear to be to increase his name recognition, because who the hell even heard of Amash before now?
By the way, Ahmadinejad is not the only politician who resembles a primate. Rep. Henry Waxman (D-CA) is a dead ringer for Julius The Monkey, which The Stiletto noted back in January 2009 (last item on the page):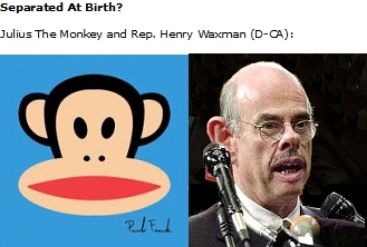 † The right to bear arms belongs to us all (click here for related article): As described by The New York Times, Chicago is the ultimate liberal dystopia:
Not a single gun shop can be found in this city because they are outlawed. Handguns were banned in Chicago for decades, too, until 2010, when the United States Supreme Court ruled that was going too far, leading city leaders to settle for restrictions some describe as the closest they could get legally to a ban without a ban. Despite a continuing legal fight, Illinois remains the only state in the nation with no provision to let private citizens carry guns in public.
And yet Chicago, a city with no civilian gun ranges and bans on both assault weapons and high-capacity magazines, finds itself laboring to stem a flood of gun violence that contributed to more than 500 homicides last year and at least 40 killings already in 2013, including a fatal shooting of a 15-year-old girl on Tuesday.
The article then quotes just one person who believes that the city's gun control laws have utterly failed:
"The gun laws in Chicago only restrict the law-abiding citizens and they've essentially made the citizens prey," said Richard A. Pearson, executive director of the Illinois State Rifle Association.
The rest of the 1400-word article is devoted to supporting those who blame the city's excessively high homicide rate on "a need for strict, uniform national gun laws to eliminate the current patchwork of state and local rules that allow guns to flow into this city from outside" – even though "[e]fforts to compare the strictness of gun laws and the level of violence across major American cities are fraught with contradiction and complication, not least because of varying degrees of coordination between local and state laws and differing levels of enforcement."
In other words, there's no data suggesting that "strict" laws that only law-abiding citizens, by definition, will obey will work better if they are adopted in every jurisdiction – but that doesn't stop The Times.
The article mentions in passing that, "though many describe the local and state gun laws here as relatively stringent, penalties for violating them – from jail time to fines – have not proven as severe as they are in some other places, reducing the incentive to comply." What The Times doesn't report is that very few shooters in Chicago are ever charged with a gun crime. Based on its analysis of police data, DNAinfo.com concludes that "It's getting easier to get away with shooting people in Chicago":
Chicago's top cop said the "no-snitch" code of silence on the street is the biggest contributor in his department's struggle to charge shooters.
In 2012, Chicago police cleared 211 aggravated battery with a firearm cases — 11 percent of the 1,893 incidents where someone was shot and wounded during the calendar year.
But of those cases, only 111 shootings — about 6 percent — resulted in charges. The other 100 cases were "cleared exceptionally," which means police know who the shooter is but were unable to bring charges, the state's attorney wouldn't bring charges, a victim refused to testify after identifying a shooter or the offender was dead.
Detectives in 2012 were able to clear 144 cases that happened before 2012. But even when you factor in those cases, Chicago's total clearance rate – 18.8 percent – is nearly half the national average cited in the most recent FBI report on clearance rates.
In 2010, eight police departments in cities with more than 1 million residents cleared 35.5 percent of nonfatal shootings with an arrest, the FBI report shows.
Some say the low clearance rate sends the wrong message to Chicago triggermen.
"If only 6 percent of people involved in nonlethal shootings are charged, it clearly doesn't set much of a deterrent," said former Chicago Police Supt. Jody Weis, a former FBI supervisor. "What it says is you have pretty good odds that you won't wind up in court or wind up in jail. That's something that needs to be examined to find out why this is happening."
If Chicago police are unable or unwilling to arrest criminals who break the laws that The Times wants to export to the rest of the country, matters are arguably worse in CA, where officials can't be bothered to commit the necessary resources to track down and confiscate guns legally purchased by people who later committed a felony or to were diagnosed with mental illness, The Washington Times reports:
More than 39,000 firearms are currently in the wrong hands, Stephen Lindley, chief of the Bureau of Firearms for the state Department of Justice, said at a joint legislative hearing. …
The chief said it would cost at least $25 million to hire the staff necessary to clear the backlog over the next three years.
If Chicago and CA are representative of the laxness with which stringent gun laws are enforced, it goes a long way to explain why a recent analysis by The Washington Times finds "no discernible correlation between stricter rules and lower gun-crime rates in the states":
The Times analysis looked at the Brady Campaign's rankings for strength of each state's gun laws and at Mayors Against Illegal Guns' rankings for how states perform in disclosing mental health data to the background check system. That information was then matched against the FBI's 2011 gun-crime rankings for homicides, robberies and assaults.
The results showed no correlation among the strength of laws and disclosure and the crime rates.
For example, Maryland and New Jersey – both of them populous states with large metropolitan areas – have tight gun laws but poor mental health disclosure. But New Jersey's gun-crime rate was in the middle of the pack, while Maryland ranked sixth-highest in homicides involving guns and second-highest in robberies with guns.
Delaware and Virginia, which both ranked high in mental health disclosure and ranked 18th and 19th in the Brady tally of tough gun laws, also had divergent crime rates.
Delaware ranked among the top 10 in number of gun robberies and gun assaults, while Virginia was in the middle of the pack on its measures.
Despite the ineptitude or dereliction of duty on the part of law enforcement and elected officials, the MSM continue to blame "the maze of gun statutes around the country and the lack of a minimum federal standard to raise the bar for gun control in states with weak laws" (The Associated Press) for inner city gun violence.
Think about this for a minute: Most criminals in the nation's largest urban areas get away with breaking local gun laws, and in our most populous state thousands of criminals and mentally ill people remain armed and potentially dangerous. Is it any wonder that law-abiding citizens who own guns insist that gun control laws already on the books are stringently enforced first, before they are subjected to further encroachments on their Second Amendment rights. Adding insult to injury, based on years of research criminologist John Lott concludes that laws permitting concealed-carry have a proven track record of reducing crime – the more permits a state issues, the lower the rate of violent crime drops. The facts notwithstanding, concealed-carry is the only form of gun control that the MSM will never support.
†Judge fixes own tix: District Judge Kelly Ballentine spent two days in court – but in the dock, instead of on the bench. The day after she was convicted of operating a clothing store in PA for three years without a sales-tax license – she charged customers for the tax and pocketed the money – and ordered to pay a $369 fine , she was back in court to sign a plea deal admitting that she had dismissed three of her own parking tickets in December 2010 and January 2011, LancasterOnline.com reports:
The state attorney general's office agreed to drop six of the nine charges and reduced the remaining three counts of tampering with public records from felonies to misdemeanors.
Ballentine, 44, faces a maximum two-year prison penalty on each count, but [Chester County Judge Charles Smith] noted the "greater penalty" will come from the state Judicial Conduct Board.
The board could potentially recover salary that Ballentine was paid during the past year on suspension – or disbar her altogether, the judge noted.
Trackbacks