Arms and the woman
THE DAILY BLADE
: Women are on the front lines of the war over the Second Amendment, The Washington Post
reports
, and they are being pitted against each other by politicians and advocacy groups:
Advocates for stricter firearms restrictions are employing mothers of shooting victims in their public relations push, calculating that when they speak out against gun violence they are hard to dismiss. …
The gun lobby, meanwhile, is using women to create a gentler image of the male-dominated industry and to frame its status-quo agenda as more about family safety and self-protection than about hunting and aggression.
In addition to mothers who lost children to gun crime and mothers who saved their children's lives by using a gun, there is a third type of mother that The WaPo did not mention: the hysterical harpy who raises tattle-tales and makes a federal case out of innocent child's play so that some other mother's kid is suspended from school, or even arrested. This particular species of harpy is best exemplified by one Rebecca Edwards, whose daughter attends Douglas MacArthur Elementary School in Alexandria, VA with Nakicha Gilbert's 10-year-old son. The boy, who is black, got into adult-sized trouble when he showed a classmate a toy gun from the dollar store while they were riding the bus home from school. The Washington Post reports:
It is unclear how many other children noticed or talked about the toy gun, but one girl told her mother that the episode frightened her. The girl's mother called the school immediately and e-mailed school officials that she was uncomfortable sending her children to school until she could be certain the 10-year-old was not armed. …
[T]he boy's backpack was searched, the toy gun was found and school officials called police. …
[He] stood in a small courtroom, answering questions about Miranda rights, accused of brandishing a weapon, his mother said. He was fingerprinted and photographed. He now has a probation officer, lawyers and another court date.
For her part, Gayle Trotter, a senior fellow at the conservative Independent Women's Forum, exemplifies The WaPo's archetype of the "flinty mother who wants maximum firepower to take matters into her own hands in protecting her brood." In her testimony before the Senate Judiciary Committee Trotter pointed out what should be obvious to everyone, but is not: "An assault weapon in the hands of a young woman defending her babies in her home becomes a defense weapon." After The New York Times accused Trotter of being a "pseudofeminist" peddling "dangerous gun myths," she elaborated further in an interview on "The Hannity Show":
Trotter told Hannity that her view is not one that gets talked about in the media. Hannity said that the two of them are some of the only people in the country bothering to cite actual instances of people successfully using guns to defend themselves. Trotter added that everyone who criticized her for her testimony did not bother to check her written appendix, which had such examples available.

In fact, about a minute into her prepared remarks Trotter related the story of 18-year old Sarah McKinley, who fended off two intruders breaking into her mobile home New Year's Eve to steal the pain meds her husband had been taking before he died of lung cancer on Christmas Day in 2011 (sixth item on the page). Waiting for the police to arrive after calling 9-1-1, she had a pistol and 12 gauge shotgun at the ready and was giving her baby a bottle to keep him quiet. After 20 minutes on the phone with the dispatcher, she was forced to shoot one of the intruders with the shotgun, when he burst through the door brandishing a 12-inch hunting knife. This so-called figment of Trotter's fevered imagination later said, ""It was either going to be him or my son. And it wasn't going to be my son."
Another woman The Times prefers to think does not exist is Chloe Morris, who was "staunchly anti-gun" until home invaders beat up her aunt and held her and her children hostage for ransom in 2008. After the ordeal, her aunt and mother began building a gun collection, The Atlanta Journal-Constitution reports via GOPUSA.com:
[I]t wasn't until Morris' mother bought her a firearm and she attended a gun safety course that she felt comfortable with guns.
"The class changed my life," said Morris, who soon became a regular at the range and eventually a pistol instructor. She's now a recruiter for the NRA.
The Times is not alone in liking women unarmed and ready to be victimized. On RedStateNews, Dana Loesch reports that while arguing against allowing concealed carry on college campuses in the state, CO State Rep. Joe Salazar (D- Thornton) doesn't think college co-eds need to be armed, and should preferentially resort to non-violent means of fending off a stalker or rapist:
"It's why we have call boxes, it's why we have safe zones, it's why we have the whistles. Because you just don't know who you're gonna be shooting at. And you don't know if you feel like you're gonna be raped, or if you feel like someone's been following you around or if you feel like you're in trouble when you may actually not be, that you pop out that gun and you pop … pop around at somebody."
Someone should tell Salazar that if a woman "feels" like she's about to be raped, chances are she's about to be raped. Women just know these things. To contact him, call 303-866-2918 or write joseph.salazar.house@state.co.us.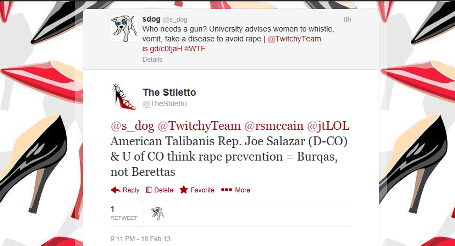 After his colleagues Rep. Polly Lawrence (R-Littleton) and Rep. Lori Saine (R-Dacono) took issue with the suggestion that women were too flighty to be trusted with handling a concealed gun safely, Salazar apologized: "I'm sorry if I offended anyone. That was absolutely not my intention ... If anyone thinks I'm not sensitive to the dangers women face, they're wrong."
Meanwhile, University of Colorado (Colorado Springs) campus police offer female students "realistic" tips on how to fight off a rapist that are on par with Salazar's: scream (just hope that others will run to your aid rather than run the other way to avoid whatever it is that's making you scream); kick off your shoes and run (just hope that your would-be rapist is too out of shape to run after you); use passive resistance (just hope that an aggressive attacker who may be high on drugs can be talked out of raping you); tell him you have an STD or are on the rag (just hope he doesn't one-up your fake chlamydia with real AIDS or doesn't care about your period because he has a condom); and if worse comes to worst, yell – apparently, yelling is a more forceful response than screaming – hit and bite (just hope that you don't enrage him enough to he beat unconscious before raping you).

Surprisingly, the #LiberalTips2AvoidRape suggested by the campus police don't include vomiting, wetting yourself or crapping your pants – maybe because some guys get off on that sort of thing.
Trackbacks