A current events round-up for conservatives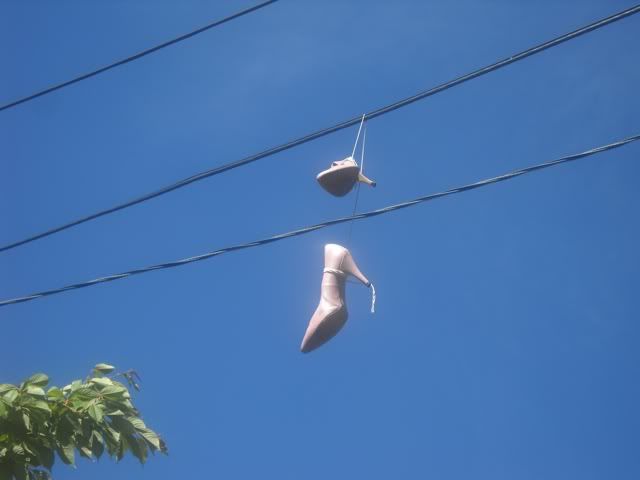 THE OTHER SHOE DROPS: News developments of note for conservatives:
† Never mind Marxism. Will an Obama administration be totalitarian?: Part II: President Barack Hussein Obama's omnipresence, as depicted in a September 2009 article in New York Magazine, which attempted to make the case that his "ubiquitous appearances as professor-in-chief, preacher-in-chief, father-in-chief, may turn out to be the most salient feature of his presidency" – an image that caused alarm bells to go off in The Stiletto's mind: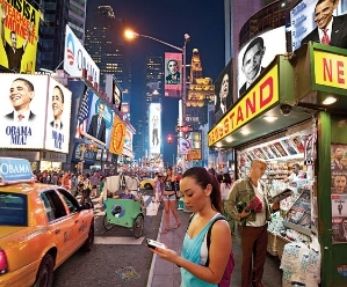 Obama's omnipresence, as depicted in a Columbus Dispatch cartoon by Nate Beeler about the Obama administration's pervasive, unpopular and possibly unconstitutional domestic spying program that has covertly surveilled the phone calls, e-mails, social media posts and Internet usage of tens of millions of law-abiding American citizens who have no ties to a terrorist organization: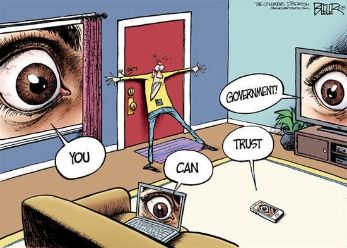 † A Jihadi Who Represents Himself Has A Fool For A Client (last item on the page): Col. Tara Osborn, the military judge presiding over Maj. Nidal Malik Hasan's capital trial in connection with the 2009 Fort Hood shooting rampage, granted his petition to represent himself, ruling that he was mentally competent to represent himself and understands "the disadvantage of self-representation.
One of those disadvantages became apparent when she rejected his planned defense strategy that the 13 murders and 32 attempted murders he (allegedly) committed were necessary to protect Taliban leaders in Afghanistan from immediate danger or death.
When Osborn asked Hasan to provide evidence to support his defense, he responded that Taliban leader Mullah Omar and the "leadership of the Taliban in general" were in immediate danger from American troops who hadn't yet been deployed to Afghanistan, because "the U.S. has attacked and continued to attack the Taliban." Osborn ruled there was no evidence to support an immediate threat by anyone at Fort Hood to anyone in Afghanistan, thus Hasan's "defense of others" defense "fails as a matter of law." She also ruled that as a uniformed Soldier in the U.S. Army, Hasan had no justification to kill other U.S. Soldiers.
"A 'defense of others' strategy is not going to work when you're at war and the 'others' are enemies of the U.S.," Jeff Addicott, director of the Center for Terrorism Law at St. Mary's University in San Antonio explains.
Despite Osborn not allowing Hasan to present any evidence or argument relating to the defense of others in court, Hassan has given the lie to the Obama administration's characterization of his (alleged) crime as "workplace violence." The victims should be awarded the Purple Heart for being killed or wounded in the line of duty, so they and/or their can receive combat-related special compensation.
† Let them eat steak!: Part VIII: The Wall Street Journal's Kimberly Strassel recently observed that while the IRS scandal has registered with the average American, it's the Obama administration's targeting of the media that will ultimately give him the most grief:
For years, much of the Washington press corps has served as this White House's front-line defense. As recently as a month ago, the press was still playing no-see-um with Benghazi.
Yet since the AP story broke, the Beltway media have been doing a passable impression of a credible Fourth Estate. White House press secretary Jay Carney's daily briefings now resemble "Survivor" episodes, with journalists firing off questions, rejecting answers, and even rolling their eyes at responses. The White House's evasiveness on the press scandal has suddenly got the press corps wondering what else this administration isn't being straight on. …
Will it last? That may depend on how many more revelations about press intrusions come to light. But the notable thing is that Mr. Obama has lost the media's loyalty at this critical moment of his presidency, as other scandals over the IRS and Benghazi continue to swirl.
Case in point: It took nearly five years, but The New York Times finally took a page from Judicial Watch and acknowledged that Obama's jet-setting ways are extravagant and demoralizing to government workers facing unpaid furloughs:

Perhaps it is nothing more than an accident of timing that as federal workers brace for a summer filled with unpaid furlough days, their leaders are traveling the nation and globe on trips that exude luxury. …
For a leader presiding over automatic budget cuts and a slow-moving economic recovery, there are growing political costs to presidential travel. Every move a president makes costs money, and in an era when money is in short supply, that means heightened scrutiny. Vacations are especially touchy. …
Almost by definition, Mr. Obama lives a life foreign to most Americans, with the big white house and the ushers and chefs and the airplane fueled and ready to go. When he wants a weekend away, he can fly to Florida to golf with Tiger Woods. When his daughters take spring break, they head to Aspen to ski. He winters in Hawaii and summers on Martha's Vineyard. …
Many workers are canceling summer vacations of their own. Across the government, cutbacks are everywhere. The Blue Angels did not fly at the Naval Academy commencement, Head Start programs are turning away children, and there are no summer jobs for college students to cut the grass at Antietam.
Mind you, this was before details of the logistical difficulties – military cargo planes airlifting 56 support vehicles, truckloads of bulletproof glass, a medical trauma center aboard a Navy ship, and hundreds of Secret Service agents – and costs – an estimated $60 million to $100 million – of the Obama family's planned weeklong trip to Senegal, Tanzania and South Africa became public.
After the details of Obama's excellent adventure were widely reported, the White House found itself in the unaccustomed position of having to defend the eye-popping expense while "sequestration" budget cuts are being made, explaining it is "great bang for our buck." The "our" wasn't referring to any of the bucks in Obama's wallet, but to the bucks taken from the paychecks of struggling Americans, which the Obamas feel extraordinarily entitled to spend on their personal pleasure. The Washington Times reports:
"There will be a great bang for our buck for being in Africa because when you travel to regions like Africa that don't get a lot of presidential attention, you tend to have very longstanding and long-running impact from the visit," said Ben Rhodes, a deputy national security adviser to President Obama.
On Obama's agenda is "emphasizing the importance of global health programs, including HIV/AIDS prevention" – as if his predecessor hadn't saved millions of lives with his historical commitment to HIV/AIDS prevention (an effort that deserved being recognized with a Nobel Peace Prize, but never will be).
The old ditty,"You Better Get It While You Can," best explains why Obama is spending taxpayer money like a drunken sailor on shore leave.

†
The magic is gone
:
Protesters across the political spectrum
demonstrated against President Barack Hussein Obama outside a May fundraiser he attended for the DCCC in Chicago:
[P]ro-life groups lined Michigan Ave. with giant images of aborted children, standing alongside protesters from the Sierra Club against the Keystone Pipeline, illegal aliens calling for open borders, anarchists against the police state, communists against freedom, independent veterans who are fed up with the Obama regime, and even a group of Native Americans singing and chanting.
In a Wall Street Journal op-ed, Fred Barnes, executive editor of the Weekly Standard, makes the case that this broad-based dissatisfaction with Obama indicates the beginning of the end of his legacy:
Mr. Obama's re-election stirred grand expectations. The vote heralded a new liberal era, or so it was claimed. His victory was said to reflect ideological, cultural and demographic trends that could keep Democrats in the majority for years to come. His second four years in the White House would be just the beginning.
Now, six months later, the Obama administration is in an unexpected and sharp state of decline. Mr. Obama has little influence on Congress. His presidency has no theme. He pivots nervously from issue to issue. What there is of an Obama agenda consists, at the moment, of leftovers from his first term or proposals that he failed to emphasize in his re-election campaign and thus have practically no chance of passage.
Barnes writes that Obama is "paying the price for a re-election campaign that was based on attacking his opponent, Mitt Romney, and not much else" and that the IRS, Justice Department, Benghazi scandals "worsened his plight and made recovery next to impossible."
† When kindness kills (third item on the page): Back in January a video showing what happened when a soft-hearted headed man released a mouse he had captured in his home into the wild went viral, providing the perfect illustration of a phenomenon one researcher terms "pathological altruism" – which conservatives colloquially refer to as "liberal cluelessness."
In her meta-analysis of research on the psychological, biological and evolutionary foundations of altruism, "Concepts and Implications of Altruism Bias and Pathological Altruism," Barbara Oakley, an associate professor in engineering at Oakland University (Rochester, MI), offers a scientific explanation of "pathological altruism":
Pathological altruism can be conceived as behavior in which attempts to promote the welfare of another, or others, results instead in harm that an external observer would conclude was reasonably foreseeable. More precisely, this paper defines pathological altruism as an observable behavior or personal tendency in which the explicit or implicit subjective motivation is intentionally to promote the welfare of another, but instead of overall beneficial outcomes the altruism instead has unreasonable (from the relative perspective of an outside observer) negative consequences to the other or even to the self. This definition does not suggest that there are absolutes but instead suggests that, within a particular context, pathological altruism is the situation in which intended outcomes and actual outcomes (within the framework of how the relative values of "negative" and "positive" are conceptualized), do not mesh.
A working definition of a pathological altruist then might be a person who sincerely engages in what he or she intends to be altruistic acts but who (in a fashion that can be reasonably anticipated) harms the very person or group he or she is trying to help; or a person who, in the course of helping one person or group, inflicts reasonably foreseeable harm to others beyond the person or group being helped; or a person who in reasonably anticipatory way becomes a victim of his or her own altruistic actions. The attempted altruism, in other words, results in objectively foreseeable and unreasonable harm to the self, to the target of the altruism, or to others beyond the target.
[Hat Tip: OpinionJournal]
Trackbacks