Egypt erupts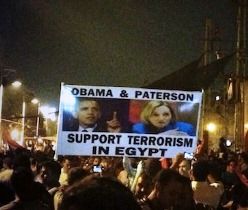 THE DAILY BLADE:
With the help of the military
, the Egyptian people
have rid themselves
of the autocratic Mohamed Morsi and the Islamist Constitution he rammed down their throats.
In a televised news conference Gen. Abdul-Fattah el-Sisi outlined the details of a "road map" for a post-Morsi government developed by civilian, political and religious leaders, and promised that for parliamentary and presidential elections would occur without delay. Chief justice of the Supreme Constitutional Court, Adli Mansour, was sworn in as the interim president and will work with the constitutional court to establish the rules for these elections.
What Just Happened, Here?
The Washington Post's Max Fisher characterizes Morsi's ouster as "both a coup and a popular movement, both the expression and subversion of Egypt's democratic experiment," and makes the case that the duality of these events must be acknowledged by pro- and anti-Morsi factions so that Egyptians can elect a leader everyone can live with:
If Egypt is going to deal with this transition much better than 2011, it might well require both sides of this week's stand-off to acknowledge the full extent of July 3 and how the country got to that point. The Muslim Brotherhood, which is influential enough that it will likely remain a real political force, has some significant lessons to learn about political inclusion and legitimacy; it would not be easy for the group to ask itself if it really did squander its presidency, but they've endured much harder times than this.
A lesson for opponents of the Brotherhood, though, may be that the Islamist group didn't get to the presidency by accident and will not disappear. The Muslim Brotherhood has proven one of Egypt's most organized and effective political organizations. For the military and other to treat a coup that deposed the Brotherhood's president as a non-coup and democratic event leaves the Brotherhood little real space in Egyptian politics. That would seem to risk a repeat of the same problem that plagued and ultimately ousted Morsi – except instead of an Islamist ruler acting as if non-Islamists had no right to participate, it would be the other way around.
Obama Is On The Wrong Side Of History – Again
On Facebook, Middle East analyst Walid Phares quotes "an observer in Washington": "[W]e're glad to see on our 4th July, the appointment of a top jurist at the position of head of state in Egypt to serve the cause of democracy, freedom and justice. Above all President Mansour will have to clean up the Muslim Brotherhood legacy of extremism, Jihadism and fascism."
In keeping with his unconditional support of Morsi (more on this, later) Obama released a statement Wednesday evening that questioned the legitimacy of Morsi's ousting:
[W]e are deeply concerned by the decision of the Egyptian Armed Forces to remove President Morsy and suspend the Egyptian constitution. I now call on the Egyptian military to move quickly and responsibly to return full authority back to a democratically elected civilian government as soon as possible through an inclusive and transparent process, and to avoid any arbitrary arrests of President Morsy and his supporters. Given today's developments, I have also directed the relevant departments and agencies to review the implications under U.S. law for our assistance to the Government of Egypt.
This statement can only be interpreted as pro-Morsi, since the Obama administration flouted a law requiring the secretary of state to certify that the Egyptian government "is supporting the transition to civilian government, including holding free and fair elections, implementing policies to protect freedom of expression, association and religion, and due process of law" when Secretary of State John Kerry waived the requirement and released $1.3 billion in U.S. military aid.
As Daily Beast columnist Kirsten Powers tartly noted on Twitter: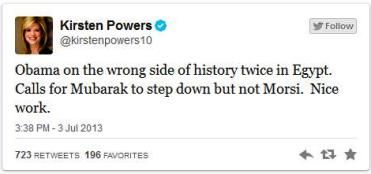 Obama's also disingenuously stated that "The United States does not support particular individuals or political parties, but we are committed to the democratic process and respect for the rule of law." In fact, the Obama administration has been silent about the escalating persecution of Egypt's Copts and U.S. ambassador to Egypt Anne Patterson has stood shoulder-to-shoulder with Morsi since he assumed office, Foreign Policy reports:
Patterson … resisted opportunities to criticize the Morsy government as it implemented increasingly authoritarian policies. In a memorable May interview with the Egyptian English-language news sit Ahram Online, she repeatedly dodged pointed questions about Morsy's leadership. "The fact is they ran in a legitimate election and won," she said. "Of course it is challenging to be dealing with any new government. However, at the state institutional level, we are for instance still liaising with the same military and civil service personnel, and thus have retained the same long-established relations."
As Human Events points out, "the human rights abuses Egypt's Coptic Christians have been suffering under Muslim Brotherhood rule are significantly worse than the human rights abuses that the average Egyptian suffered under Mubarak – making the Copts' right to protest even more legitimate, and, if anything, more worthy of U.S support." But the Obama administration wanted Copts to sit down and shut up – on June 18 Patterson made a speech discouraging anti-Morsi protests ("Some say that street action will produce better results than elections. To be honest, my government and I are deeply skeptical.").
Obama's Tacit Approval Of Religious Persecution
That speech gave Morsi's Muslim Brotherhood minions a green light to explicitly menace Christians in the hours before the June 30 protests, Human Events reports:
In Minya, Upper Egypt, where millions of Christians live, letters addressed to the Copts threatened them not to join the protests, otherwise their "businesses, cars, homes, schools, and churches" might "catch fire." The message concluded by saying "If you are not worried about any of these, then worry about your children and your homes. This message is being delivered with tact. But when the moment of truth comes, there will be no tact." It's signed by "People zealous for the nation."
A prominent imam, Wagdy Ghoneim (who, by the way, served as the imam at the Islamic Institute of Orange County, CA, until he was deported on an immigration violation) posted a video, "A Notice and Warning to the Crusaders in Egypt," that included a chilling threat:
The day Egyptians – and I don't even mean the Muslim Brotherhood or Salafis, regular Egyptians – feel that you are against them, you will be wiped off the face of the earth. I'm warning you now: do not play with fire!… What do you think – that America will protect you? Let's be very clear, America will not protect you. If so, it would have protected the Christians of Iraq when they were being butchered!
Ghoneim lived in America long enough to discern that our foreign policy has never been predicated on preventing the genocide of Christians in the Middle East and North Africa. And with Obama consistently supporting Islamists in every Muslim country – from Egypt and Libya to Syria and Turkey – Egypt's Islamists have been killing Christians, raping Christian girls, forcing Christians to convert to Islam and burning down Christian churches with impunity.
Washington Post columnist David Ignatius writes, "the Obama administration has been Morsi's main enabler":
Probably thinking he had America's backing, Morsi overreached on Nov. 22 by declaring that his presidential decrees were not subject to judicial review. … [A]s members of Morsi's government resigned in protest, thousands of demonstrators took the streets and, ominously, Muslim Brotherhood supporters began counterattacking with rocks, clubs and metal pipes.
Through this upheaval, the Obama administration has been oddly restrained. After the power grab, State Department spokesman Victoria Nuland said: "We call for calm and encourage all parties to work together and call for all Egyptians to resolve their differences over these important issues peacefully and through democratic dialogue." Not exactly a thundering denunciation.
For this reason, Morsi and Obama were joined at the hip in the eyes of Egyptian protesters:
In a Washington Times op-ed Rep. Ileana Ros-Lehtinen (R-FL), chairman of the Subcommittee on the Middle East and North Africa, framed the events in Egypt the way Obama should have:
For the second time in as many years, Egypt finds itself at a pivotal crossroads. What has become clear by recent events is that millions of Egyptians believe that the Mohamed Morsi and the Muslim Brotherhood project has failed to live up to the goals and aspirations of the Egyptian Revolution of 2011. …
We usually don't get many second chances to support democratic movements in the Middle East, but this is an opportunity for the United States to push for true democratic reforms and a vibrant civil society for all Egyptians. … [We] support the Egyptian people as they strive to implement real changes. Democracy need not come to Egypt through bloodshed and civil war.
Obama flattered himself that his Muslim upbringing made him uniquely qualified to guide U.S. foreign policy to a "new beginning between the United States and Muslims around the world, one based on mutual interest and mutual respect," as he put it in his June 2009 speech in Cairo. But his philosophy to dialogue with instead of "dictate to" the Muslim world (click here, second item; and here, third item) has led him to support behind Islamists, insurgents and terrorists with aid and arms throughout the Middle East.
In short, Obama's foreign policy can be reduced to this: "I refuse to dictate to dictators."
---
Happy Independence Day!
Here are two great infographics from the visual.ly blog:
Trackbacks